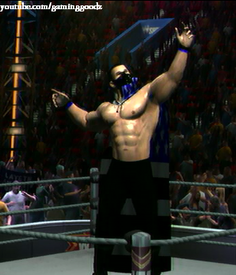 Liam Harris (Prototype) is an American CAW wrestler, SVR '11 online icon, and COO of the CWWF.
In CWWF [offline] he is a three-time world champion, a one time intercontinental champion, a one time united states champion, and a one time unified tag team champion-- by them being offline however, the reigns are unofficial.
SVR 2011
Making his debut in Smackdown vs Raw 2011 he would gain his image. One of the top fair players in online history. One who does not use HHH high knee, glitches, or even the "ring slide" ability.
His W/L record to date is upward 400; with losses [minus uncontrolled disconnections] well below 200 (approximately 160) - most of which came from his days as an online jobber.
To his credit he has defeated invisible caws, freezers, and unpinnables [via submission].
Personality traits
Cocky
Clever
Unpredictable
Character facts & abilities
His overall is 99 for online matches (89 offline)
He is currently a heel>tweener
His nickname is "Thunder"
Special abilities:
Hammer Throw
Kip Up
Resilency
Dirty pin
Durability
In wrestling (CWWF)
Finishing move
Death From Above
Prey (Viper RKO)
Signature Moves
Super Kick
Powerbomb (Batista Bomb)
Signature Combos
Knee smash followed by Throw back and quickly followed with Viper taunt
(From behind) Flash back quickly followed by face stomp